A hidden door in a pillar.
Once again a hidden door - this time in a column.
I have now no hidden input solution searched: You can simply take away the switch on the image and set always new when you need it, so no one knows where deer secret passage is 🙂
Instructions:
This is what the door looks like open:
---
---
The whole secret of this door is a double piston extender:
---
---
And a simple piston that sits above it:
---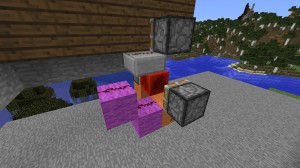 ---
Last but not least, just invert the redstone with a redstone flare and connect it to a switch or similar :D.