A cute little barn. It is not difficult to build and requires only 15-30 minutes of time.
Instructions: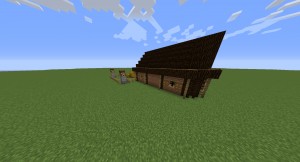 What do you need?:
- oak fences
-brick blocks
-Redstonelamps
-Daylight sensors
-Hall Doors
-nether fences
-Birch Wood Boards
-black oak fences
-spruce logs
-tropical wood boards
-straw bale
-flares
-(If you want) flowers
The Redstone lamps, how do they shine?:
The redstone lamps are located on stone brick blocks. On the Redstone lamp I have placed a daylight sensor. To make the daylight sensor bluish, you have to place a redstone torch on it (you won't see it afterwards).