A fairly simple laser door that works well in laboratories and other secure buildings.
This is what it looks like open:

Instructions:
The door consists of two parts: The lock and the light that changes.
The castle:
For that one uses fence gates, which have closed a hitbox, which is 1.5 blocks high and goes through carpet. Since the door gap is only 2 blocks high and is reduced by the ZAuntore under the carpet to 1.5, one comes no more through. Here is the redstone technique behind it: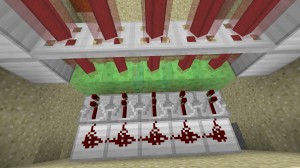 I use the slime blocks as they let the beam through once and also also direct the REdstone from the repeaters into the fence gates.
The light change: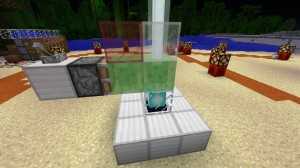 The picture shows the basic mechanics behind it: When the piston is retracted you have one light, and the other way around.
But you have to build the pistons in the actual door at a different height, otherwise the slime blocks will connect with the other stuff: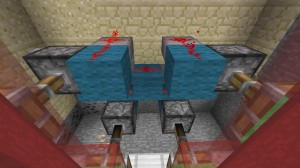 In the picture a piston is missing in the middle, but it shows well how to connect the pistons in a height-shifted way in the easiest way.
Now you only need to connect the lock mim light change and you have a laser gate =D